Creating the Perfect Roast Beef & Yorkshire Pudding
Posted Thursday 17th May 2018
Yorkshire puddings have been a national favourite since the 1700s, but we Brits still can't seem to agree on the best way to enjoy them! If you're trying to nail the classic Yorkshire Pud, read on to learn our tips and tricks to creating and serving them.
How to make the perfect Yorkshire puddings
The ingredients for Yorkshire puddings are household staples, so most of us will be equipped to whip up a batch at any opportunity!
Makes 8
3 large eggs
125g plain flour
½ tsp of sea salt
150ml whole milk*
Vegetable oil
*Lower-fat alternatives like semi-skimmed and skimmed work fine as well.
Follow these 6 foolproof steps and watch your Yorkshires rise with pride:
Using a balloon whisk, beat the eggs in a mixing bowl. Next, sift the flour and salt straight into the egg mixture and whisk together to create a smooth batter.
Whisk the milk into the batter mixture a little bit at a time. Cover and leave to stand for 1 hour at room temperature.
Pre-heat the oven to 220°C/200°C fan/Gas 7. Put 2 teaspoons of oil into each compartment of a Yorkshire pudding tray and place in the oven to heat.
Give the batter a quick stir and then decant it into a jug ready to pour into the pre-heated tray.
Pour the batter into the middle of the oil in each of the tray compartments, filling to around a centimetre below the rim — be careful: the hot oil may splash as the batter sizzles!
Put the tray into the oven for around 15 minutes, or until the Yorkshires have risen, and are golden brown and crispy.
Do's and Don'ts
Yorkshire puddings can be easy to get wrong if you aren't properly equipped, so follow our do's and don'ts to make sure your Yorkshires come out on top.
DO take the time to pre-heat
We spoke to Katie Georgeson from Stoves to get an expert opinion on oven settings, and she says preheating is an absolute must: "The batter should sizzle as you pour it into the tray, so you need to give the oil at least 10 minutes in a preheated oven. Test a small splash of batter first to make sure it's hot enough and consider working over a heated hob so the oil temperature doesn't drop while you're pouring.
"If you have a conventional oven, your Yorkshires should cook on the top shelf of the oven where the temperature is highest — just make sure you leave enough space for your puddings to rise!"
DO get your oil right
Use sunflower or vegetable oil when lining the baking tray compartments. Substitutes like olive oil can cause uncooked bottoms, and butter easily burns. Some prefer to use beef dripping, as Yorkshires were traditionally cooked underneath the meat to provide flavour.
DON'T open the door
Many people are tempted to open the oven door while their puds are cooking, but this can ruin the whole tray of them! By opening the door before they are done, they may be prevented from rising, so will come out looking rather deflated.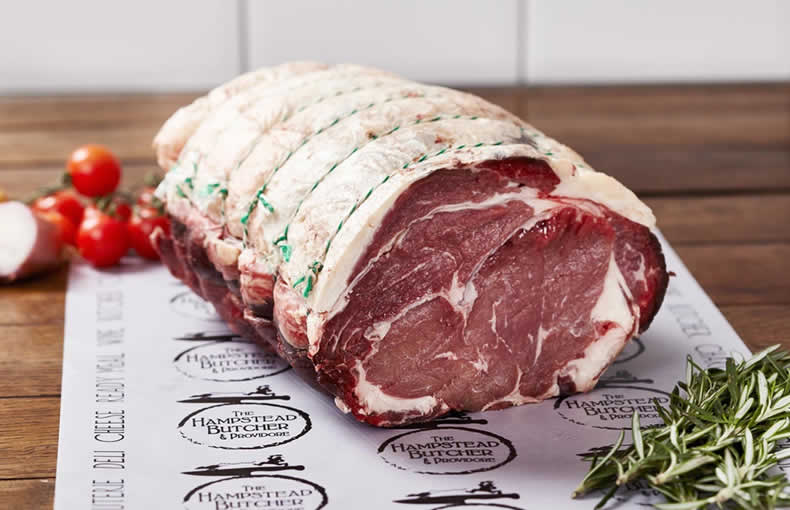 Serving recommendations
There's much debate about whether this Yorkshire delicacy should be served as a starter or a side. If you ask us, nothing beats tradition: puds are best with roast beef!
Everyone has their own preference when it comes to choosing their cut of beef for a Sunday Roast, we have a great selection to offer good value, quality and taste. Our beef is hung to age for up to 35 days, helping to develop the flavour and kick-start the natural tenderisation process.
Topside and silverside are the most popular cuts of beef for roast dinners, due to their lean and tender nature. They also have a covering of fat that helps to prevent dehydration, though our marbled rib of beef is a particularly juicy and flavoursome alternative.
For the perfect cuts of beef to complement your perfect Yorkshire Puds, ask the advice of one of our Butchers at your nearest Hampstead Butcher shop.
---
Share