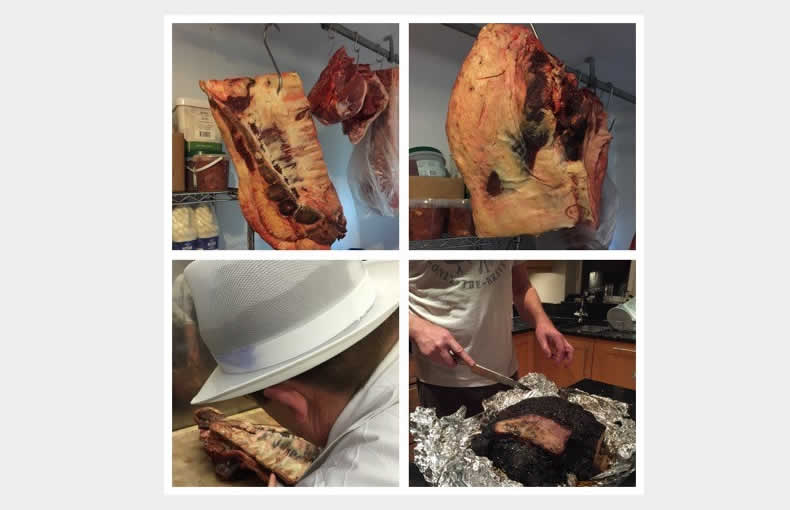 A month ago #kingkev contacted us to collaborate on a brisket project. The brief was easy; source a piece of prime British beef brisket (which comes from the lower chest of the cow) and let it hang, dry and age for 28 days, then bone and deliver to the chef along with plenty of aged beef off cuts. So we cared for and monitored that piece of beef, as we do all of our dry-aged beef until it was in absolutely prime condition.
From our stewardship to the chef, who applied his own coffee cure dry rub. The smoker was fired up at 3am and #kingkev just walked away for 15 hours. The result was magnificent, with the most blackened pieces being added to the home made bbq beans and served with crusty bread, freshly made chimchurri sauce and baby broccoli stems laced with red pepper threads.
Brisket is a classic choice for slow cooking or smoking - a fattier cut that ensures that the flavours intensify during the long cooking process achieving that very special texture where the meat falls off the bone, which can only be achieved by slow cooking these types of cuts. What's more, these cuts are cheaper than the rest and the slower cooking process is far more relaxed - everyones a winner Timings are more flexible and the cooking can be done and checked when it suits the cook. Walk the dog, go to the pub, watch a film, do all three! You're not tied to the pan or the oven.
If you really want to produce the classic winter warmer then you'll not go far wrong with this or any other slow cook classic. Wash down with a decent medium-bodied red like an outstanding Côtes Du Rhône.
Share