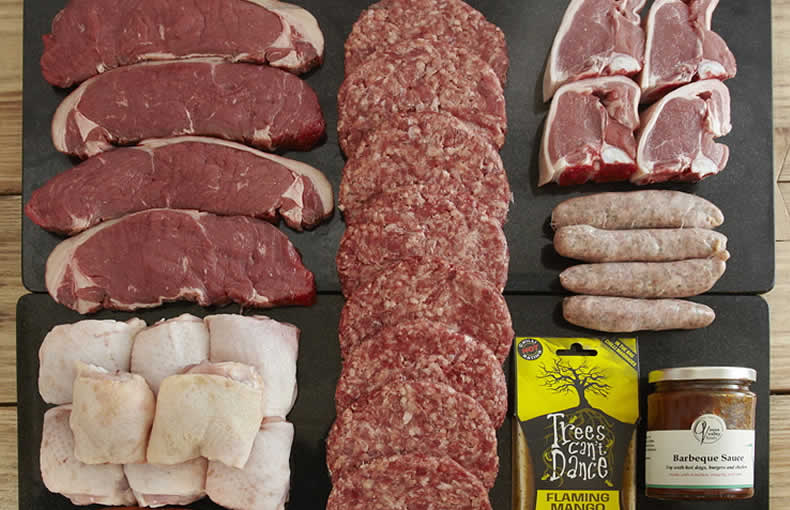 Our cabinets are fully stocked at this time of year with delicious British free-range Pork, Lamb, Poultry and Beef, ready to cook on the BBQ.
You can keep it simple by picking up our freshly minced and handmade burgers (try the variety that we spike with applewood cheddar), free-range beef, lamb or chicken kebabs and barn-reared chicken legs and thighs each marinaded in spicy Argentinean, sweet mint, piri piri or smokey bourbon blends, and of course our range of freshly made, free-range pork sausages.
Take it up a notch and pick out one of our spatchcock chickens or poussin with your own choice of marinade, mini cooking chorizo sausages, beef flat ribs, pork baby back ribs, halloumi cheese or a stack of our sensational 21-day dry aged best of British steaks.
If you just don't know what to choose we have a range of fresh BBQ Meat Boxes designed specifically for cooking on the coals and to satisfy all of your guests. They cater for a private party of two to a full feast for family and friends, all available to buy online or from the shop.
Check out our BBQ Cooking tips to ensure you get the very best results. Our wine recommendation for all those steaks, burgers and sausages is bargain of a Malbec (called Santuario) from Argentina at just £10.95 or our Vina Real, Crianza Rioja at £12.75. If a cool beer is more your thing we have the locally brewed Camden Town Brewery range as well as a choice of all-day IPAs from Brewers Union. We even have an all-English Eco Charcol by the bag for perfect coals. Now, stock up early………..you're not the only one thinking of going all 'al fresco'!
Share