Prime British Beef Cuts for Festive Feasts
Posted Wednesday 1st November 2017
It's that time of year when our attentions turn towards social occasions with family and friends. The seasonal salads have wilted away and we're craving more substantial delights. Warming, comforting dishes to share, hearty vegetables, creamed potatoes and all those feel good winter greens. High on the wish list at this time of year is Beef. Our prime cuts are dry aged for maximum flavour and eating quality. They colour up beautifully as they roast in the oven and send out an aroma that will have the neighbours wishing they had an invite.
Cote de Boeuf is always a firm favourite. The French trimmed Rib of Beef sits grandly on its own trivet of bones, which in turn adds flavour during cooking and also for the pan gravy at the end.
If you're not into carving from the bone and prefer something a little more straightforward our Rolled Rib of Beef is the one for you. Completely boneless, rolled and expertly tied by our butchers.
Both these joints eat beautifully and are rewarded further by being left pink in the middle.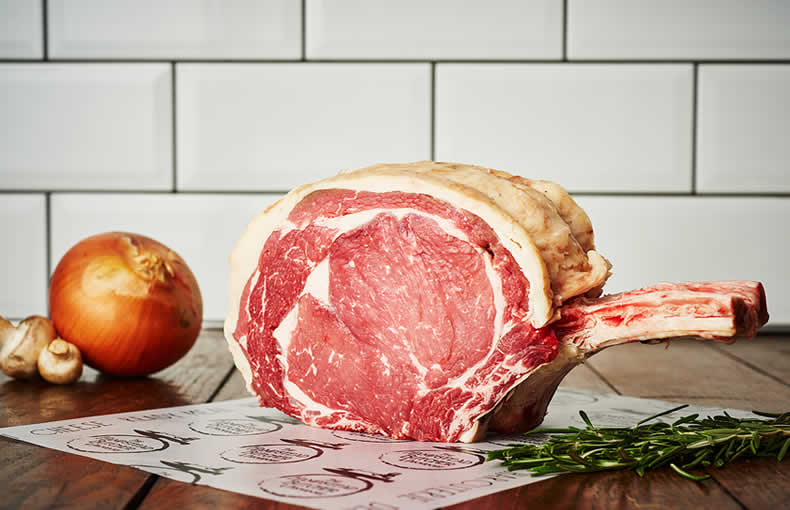 Other favourites for the table include rolled Topside of Beef. This is cut from the top of the leg, rolled with a little extra fat on the outside to protect the meat whilst cooking and adding more flavour.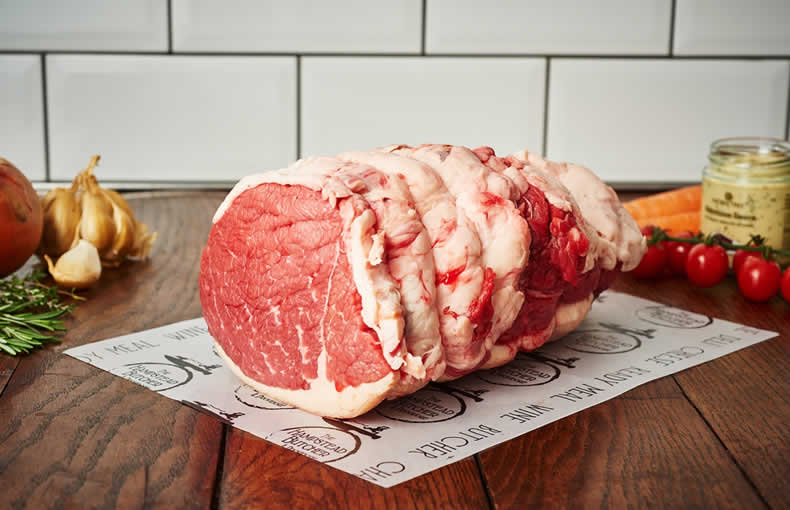 Sirloin is another boneless joint. Grass fed and matured for maximum flavour and tenderness, trimmed and ready to roast, this cut can also be rolled and tied.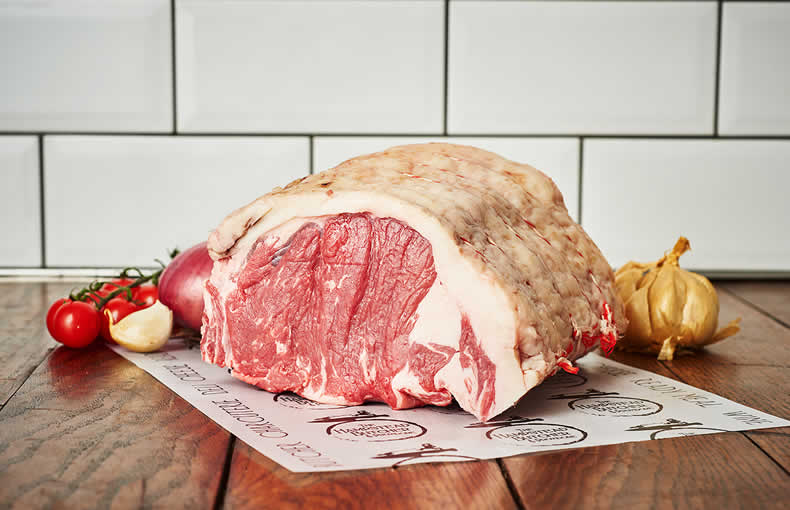 Fillet of Beef, the most expensive of the Beef cuts, is prized for its leanness and tenderness. It's always very popular as the wintery nights close in and a favourite for New Year's Eve. Demand is always high year on year. As with all the beef cuts, the Fillet can take a strongly flavoured meaty sauce or gravy. Red Wine, Wild Mushrooms and Truffle, Madeira and Peppercorn are a few to mention.
A great alternative to the Beef Fillet is the Chateaubriand. This is the head of the fillet. It's usually served in restaurants as a dish for two to share. Thinking of a quiet Christmas, New Year's Eve or a romantic meal, this is easy and quick to cook with great results. It is perfect at this time of year with a great bottle of Malbec and some Béarnaise sauce.
The prime beef joints above all deserve your attention and time. Yet other great value cuts, will afford you the time to pop out and do a little shopping whilst they slowly cook themselves into deliciousness. Rolled brisket, prime chuck for stews, Ox cheek, Oxtail and Beef Shin are all great examples of slow cook beef cuts.…happy cooking!
---
Share