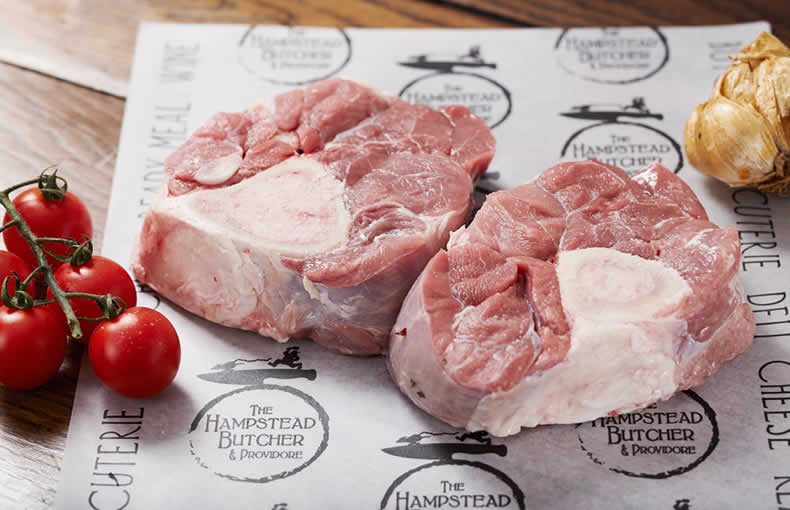 Yield 4 Ptns
Ingredients
4 portions Osso Bucco (see recipe for braising & jus)
4 portions Cooked borlotti beans (see recipe)
4 portions Truffle vinaigrette (see recipe)
600g Savoy cabbage (shredded, blanched, refreshed in cold water, drained well and then cooked slowly in a little duck fat until soft)
200g Tomatoes (blanched, peeled and concassed (1cm diced flesh, no seeds))
5g Chopped flat parsley - roughly
Method
Put a portion of osso bucco in a pot with some of the braising liquor, a knob of butter and seasoning, bring to the boil, place in oven to heat basting frequently.
Heat the cabbage and beans together (drained first), when hot mix in the truffle vinaigrette.
To serve, place the cabbage and bean mixture in the centre of the plate, place the osso bucco on top, boil the braising liquor adding the concasse and parsley at the last minute and spoon over and around the dish. Serve.
Osso Bucco – braising recipe
Yield 4 Ptns
Ingredients
4each 12oz Osso Bucco
100g Seasoned flour
2.4ltr Veal stock (or Beef)
800g Carrots
800g Onions
100g Tomato trimmings (skin & seeds)
100ml Madeira
300ml White wine
1 small Bouquet garni (rosemary, thyme, peppercorns & parsley stalks, tied in a leek parcel (Leaf))
60g Whole garlic bulbs (cut in half across)
200ml Tomato juice
Method
Dry the meat on a kitchen towel, dust with flour, brown in hot oil until dark golden, drain, set aside.
In a thick bottomed pan, heat a little oil and brown the carrots and onion very well, drain, wipe out the pan, return the carrots, onion and osso bucco to the pan, deglaze with white wine, reduce to syrup, add madeira, reduce by half.
Cover with veal (Beef) stock, add tomato juice, tomato trimmings, bouquet garni and garlic. Cover with a cartouche (lid of baking paper) that touches the liquid, bring to the boil and place in a low oven (140-150oC) for approx. 2 hours.
When cooked (test the meat with the end of a small knife, it should be tender and not have much resistance) remove pot from the oven, allow to cool until just warm, remove the meat into a tray, strain the braising liquor over the top squeezing as much juice from the vegetables as possible (discard the vegetables after), put a lid on, set aside or refrigerate (if for the next day).
Share