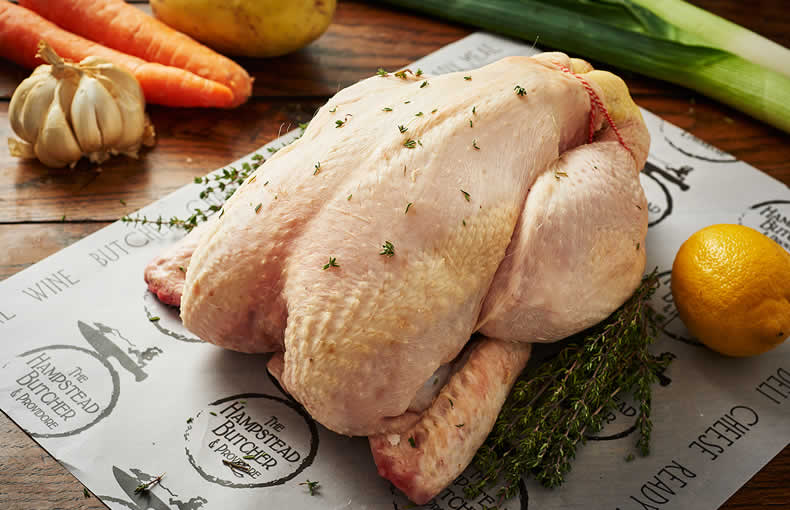 Serves 4
Ingredients
1x Free Range Chicken about 1.8kg in weight, ask our butchers to cut it into 8 pieces
1x large cooking chorizo cut along its length and then into ½ inch pieces
300 ml Hampstead Butcher's Fresh Chicken Stock
125 ml Fuzion Chenin Blanc white wine
60ml good olive oil
2x medium onions chopped finely
1x large aubergine cut into 1 inch cubes
3x cloves of crushed garlic
3x courgettes cut into ½ inch by 3 inch strips
1x red pepper cut into ½ inch strips
2x 400g tin of chopped tomatoes
2x tablespoons of tomato puree
2x tablespoons of chopped herbs such as parsley, oregano and thyme
Method
Season the chicken pieces with salt and pepper. Heat the oil in a large heavy saucepan over a medium heat, add the chicken in batches and brown the skin to a lovely golden brown on all sides.
Place the chicken to one side and lower the heat. Add the onion and cook for 3-4 minutes. Add the aubergine and garlic and cook for a further 5 minutes. Deglaze the pan with the wine and add the stock and tinned tomatoes. Stir the tomatoes and stock to combine all the ingredients and return the chicken pieces to the pan. Bring the pan to a gentle simmer and cover with a lid for 25 minutes.
Add the chorizo and courgettes and cook for a further 20 minutes until the chicken is tender.
Remove the chicken and chorizo pieces to a warm oven or hot drawer. Return the sauce to the heat and add the tomato puree. Cook until the sauce has thickened. Add the herbs and season the sauce with salt and pepper, spoon the sauce generously over the chicken and serve with warm crusty bread.
Enjoy the rest of the bottle of Fuzion Chenin Blanc! A spicy and aromatic Argentinean white wine.
Share