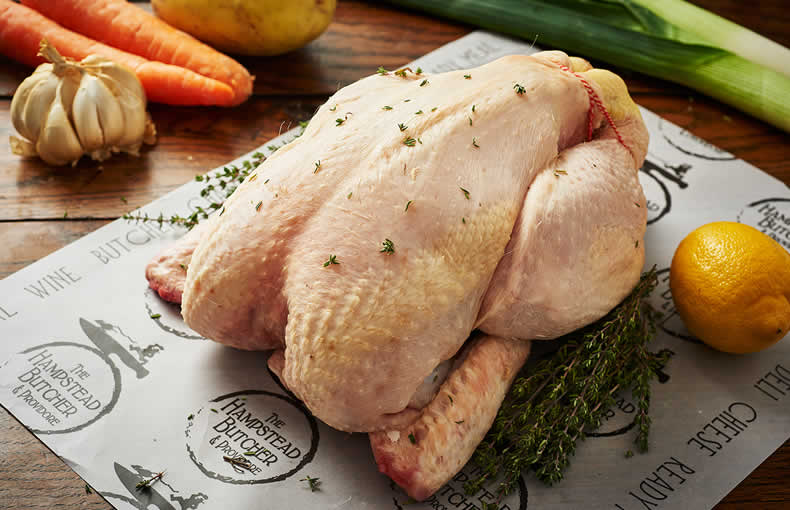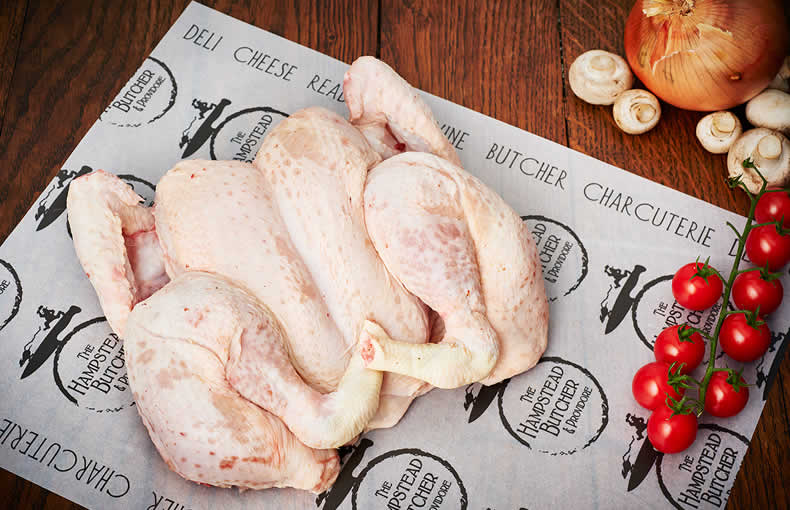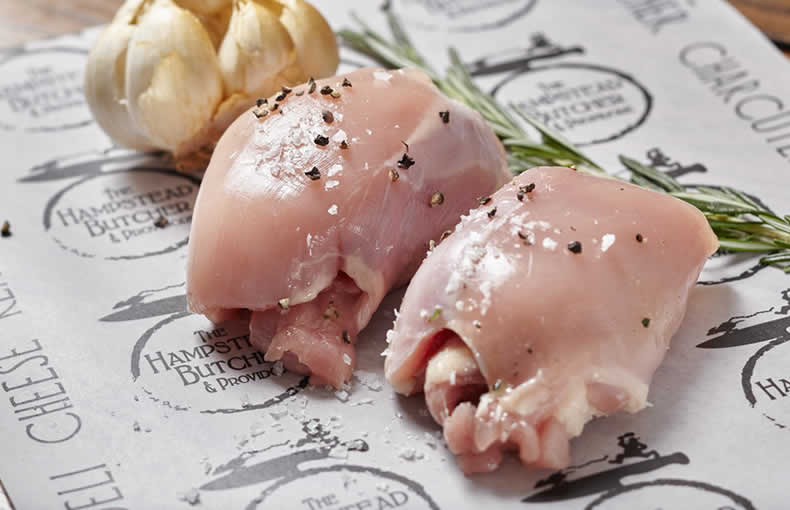 I remember, back in the day, having our Sunday lunch with my 3 brothers, sister, Mum and Dad. Us kids would have been racing around the local car park on our bikes all morning with mates from our street or playing 3-a-side football non-stop for at least 2 hours. Jumpers for goal posts and all that. "Be back for lunch at 1pm. Don't be late." The cycling or football would finish at 12.59 followed by the dash to be home in time. This was THE BIG MEAL of the week, no messing. A single chicken would be prepared along with plenty of veg, spuds and a light, flavoursome gravy. We'd sit, sweating and gulping tap water (what else?) as the chicken would be carved by Dad and 7 plates would somehow be filled with the meat from this single bird. Perhaps plates were smaller back then, I can't be sure. Either way, we'd race to finish and to be first in line for 'seconds' and then onto pudding………….
The chicken bones (despite being picked at and sucked on) would go into the fridge for soup and stock for tea later that week. Waste was a mortal sin (and frankly, earnings back then didn't extend to similar treats more than once a week) and Mum had her weekly menu planned out well ahead.
Our habits are very different 50 years on. A full roast chicken is on many pub menus as a sharing option for two and our food waste bins are fine stock pots that never happened. Here's an alternative take…….
First up, buy a top-quality bird. Really the greatest false economy in the meat business is a low-quality chicken from a lesser retailer. It'll shrink beyond recognition leaving you with skin and bone and very little else. Whatever your personal food ethics there's no argument that birds that end up in this condition will have done so because of entirely unsatisfactory husbandry. Your local butcher should have a selection of plump, free-range locally produced chickens that will have a higher ticket price, but which will provide much more meat and flavour than the rotten alternative. As always, eat better quality, smaller portions is the mantra. You can see the varieties we carry here.
If you're not roasting (and we've all of our tips for that option here) then at this time of year the BBQ offers a great alternative. Ask our butcher to break a full chicken into wings, legs, thighs and breasts. He can then marinade any or all but frankly, the beauty of a quality chicken is that with some very simple S&P seasoning you need nothing else. The skin on a good chicken contains all of the fat and flavour that you need for maximum flavour. Our BBQ and cooking tips can be seen here. Ask our butcher to bag up the carcass for you to take away. Make stock. Be Artisan again!
Alternatively ask our butcher to spatchcock your chicken. This flattens the bird and holds the shape using skewers, which makes cooking time quicker. It is also easier to grill or cook over an open fire prepared in this way. It can be marinated first and then grilled skin side down for about 20-25 minutes before turning for another 20-25 minutes. Check the juices run clear before serving.
You can do all of this yourself of course. Students at our Butchery Classes learn how to prepare a whole chicken for sauté, where each of the classic cuts are skilfully removed ready to cook. You are left with the carcass – the starting point (especially raw) for a really good clean tasting stock. Just bring the carcass to the boil in a large pan together with garlic, herbs and vegetables and then simmer for a good few hours before cooling and refrigerating. It can be kept in the fridge for about 4 days and the freezer for 2-3 months.
However you cook your free-range chicken, enjoy with friends and family plus a glass of our newly listed and quite stunning Sancerre Rosé or with a classic match, Sauvignon Blanc, like our rather popular version from Trizanne Signature Wines. Or, of course, gulps of tap water!
Share