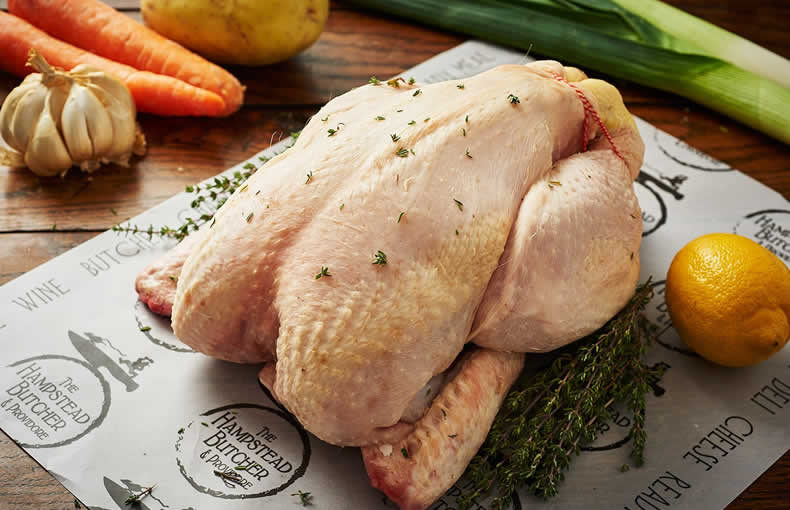 Our free-range chickens come from three sources.
Free Range Herb Fed Chickens from the pastures at the foot of the Hambleton Hills in North Yorkshire, they are fed on a locally produced corn based diet, free from growth promoters or drugs. In addition, the birds each peck through a kilo of fresh herbs per week, which include Basil, chives, Dill, Coriander and also Rocket leaves, resulting in a happy and extremely healthy bird.
Our Packington free range Chickens from Blakenhall Park in Staffordshire. They are housed in small sheds, with plenty of warm bedding, heating, and good ventilation, fed on maize and omega 3 enriched diets, which adds a creamy colour to the birds and enhances the flavour. The omega 3 further increases the birds welfare and the birds are free from any growth promoters or antibiotics. The birds roam free during the day on established English pastures consisting of various grasses and clovers, in the evening they must be brought in to protect them from night time predators such as foxes.
Sutton Hoo Free Range Chickens are a traditional slow growing breed. The birds roam freely on 40 acres of pasture overlooking the River Deben. They live in small groups and shelter from the elements in mobile houses that have no artificial lighting and are naturally ventilated. Their playground is the tussocky grassland at Sutton Hoo. From about two weeks of age the chicks venture outside to enjoy exploring under Suffolk's vast open skies. From then on all feeding takes place outside by hand with additional nutrients foraged from the surrounding vegetation.
We also stock quality chicken cuts from other sources.
Share