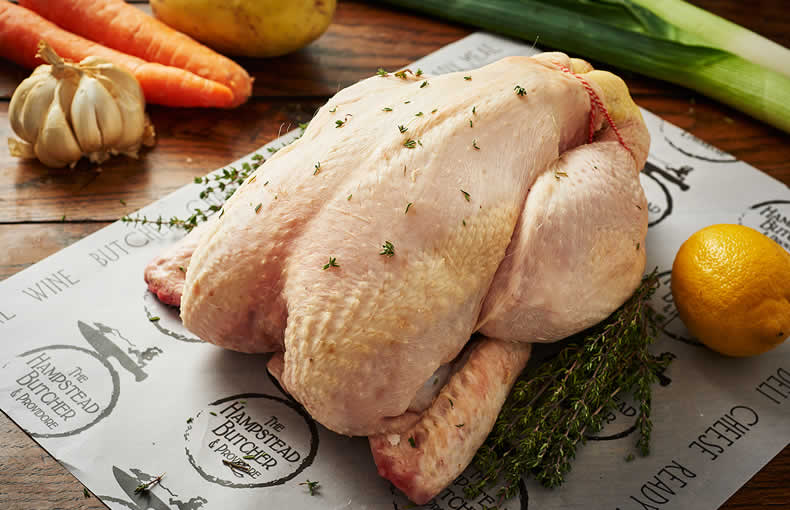 Serves 4
Ingredients
1 x Free range Chicken – cut into sauté pieces (our butcher can do this for you)
400g Butterbeans (soaked 12 hours). Alternatively you can use tinned beans for convenience
100g Carrot – peeled and left whole (not needed if using tinned beans)
100g White onion cut in half (not needed if using tinned beans)
100g Celery (not needed if using tinned beans)
100g Pesto
200g Smoked Bacon Lardons – sauté & set aside
400ml Chicken Stock
40g Mascarpone
40g Unsalted butter
400g Plum tomatoes (blanched, peeled, deseeded and cut into 2cm dice)
4g each Tarragon (chopped), Chives (chopped), Chervil (chopped), English parsley (chopped)
200g Watercress – roots and thick stalks removed
To taste Seasoning (sea salt & freshly milled pepper)
Method
Place the soaked butterbeans, the carrot, onion and celery in a large pan and cover with cold water, (do not season). Bring to the boil and simmer gently until the beans are cooked. Strain and discard the vegetables. Chill and refrigerate the beans.
Season & roast the chicken pieces until cooked & golden in colour, rest.
To serve, heat up the beans in the chicken stock, add the butter and mascarpone.
Mix in the pesto.
Add the tomato dice, lardons and herbs, taste and season.
Place the bean cassoulet in a serving dish with the chicken pieces arranged on top and a nice bunch of fresh watercress to garnish.
Share