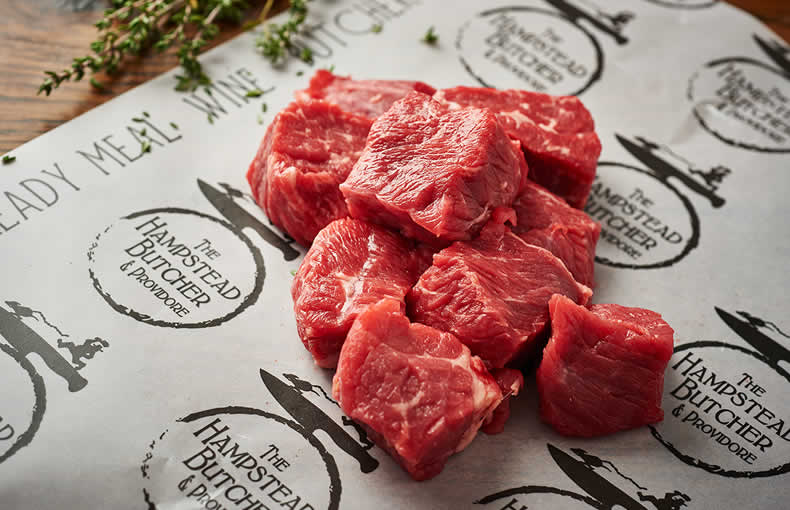 Serves 2
Ingredients
450g Free-Range Braising Steak cut into 2 inch slices
200ml Fuzion Tempranillo Malbec
1 Tablespoon Peppercorns
1 Large Onion – Chopped
1 Garlic Clove
2 Tablespoons Olive Oil
1 Dessert Spoon Plain Flour
1 Bay Leaf
1 Thyme Sprig
1 Tablespoon Crème Fraiche
Salt and milled black pepper to taste
Method
Crush the peppercorns coarsely and mix with the flour in a shallow bowl. Dip the steak slices into the mix so the meat has a good covering on both sides. Heat some oil in a casserole and brown the steak on both sides. Transfer the steaks to a plat.
Add the remaining oil to the casserole and brown the onions for a few minutes, then the garlic for a further minute. Add the remaining flour and peppercorns and stir to combine. Add the wine a little at a time, mixing well. Add the steak to the sauce along with the bay leaf and thyme. Put the lid on the casserole and place in your oven (preheated to 150 C) for 2 hours.
Remove the bay leaf and thyme and stir in the crème fraiche. Check for seasoning and serve with Jacket Potatoes or Jersey Royals with a little butter.
Enjoy the rest of the bottle of Fuzion Tempranillo Malbec! A vibrant juicy Argentinean red with Spanish and French heritage.
Share