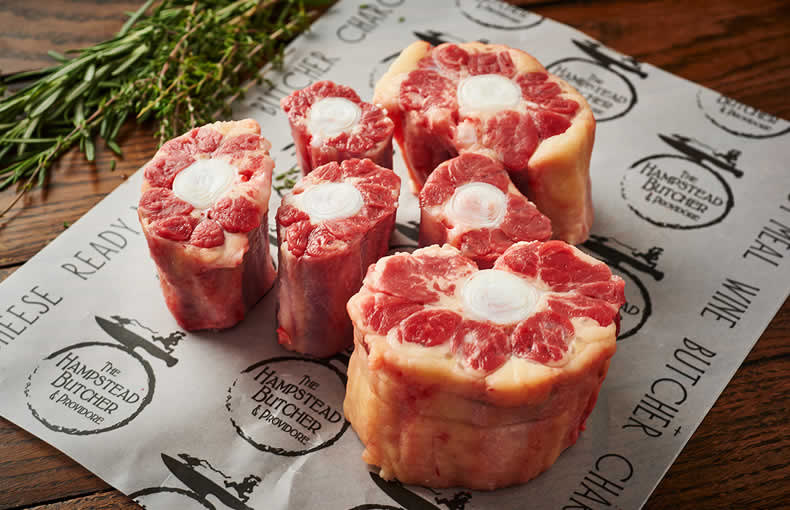 Serves 4
Colcannon
Ingredients
600g Shredded brussel tops or other greens (cabbage, kale, cavelo nero etc.)
50g Butter
To taste Seasoning – sea salt, milled black or white pepper
4 portions Mashed potato
Method
Sweat brussel tops (washed well) in butter without colour until soft.
Whip in mashed potato until well mixed.
Check consistency, add more milk, cream or butter to your mashed potato if needed.
Check seasoning.
Braised Oxtail
Ingredients
1.3kg Oxtail
700g Mirepoix (equal mix of roughly diced: carrot, onion, leek, and celery)
30g Chopped garlic
50g Thyme sprigs
50g Rosemary sprigs
200ml Red wine
Method
Mix ingredients above.
Marinade oxtail in the mixture for 24 hours.
After 24 hours remove the oxtail from the marinade and drain (dry off).
Strain off the mirepoix, reserving the red wine, Mirepoix, thyme and rosemary
200g Plain white flour (for Dusting)
100ml Madeira
1ltr Beef or Veal stock
200ml Tomato juice
120g Cep mushrooms – sliced thickly (or mushroom of your choice)
20g Chopped flat parsley
Heat the red wine until it reaches a slow boil, pass through a fine strainer to remove any coagulated blood and put wine to one side.
Lightly flour the oxtail and seal in a hot pan until dark golden brown. Set aside.
In a separate thick-bottomed pot sauté the drained mirepoix (to a deep brown colour), add the oxtail, mix well, then add the red wine and reduce to a syrup. Add the Madeira and reduce by ½.
Cover the meat with the beef stock, add the tomato juice, thyme and rosemary, cover with a lid of greaseproof paper and braise in a medium hot oven – 150 - 160oC until the meat is cooked (approx 1¼ hrs).
When cooked remove the meat with a slotted spoon and place into a deep dish, strain the braising liquor through a fine strainer (squeezing as much juice out of the veg as possible).
Adjust the consistency of the braising liquor (if required), by either reducing in a pan on the stove top or if the flavour is strong enough, by using a small amount of cornflour. Season with fine sea salt as required.
Pour braising liquor back over the braised Oxtail, cover, set aside and keep hot.
Sauté the mushrooms to golden brown, season, place on top of the Oxtail, sprinkle with chopped parsley.
Serve.
Share