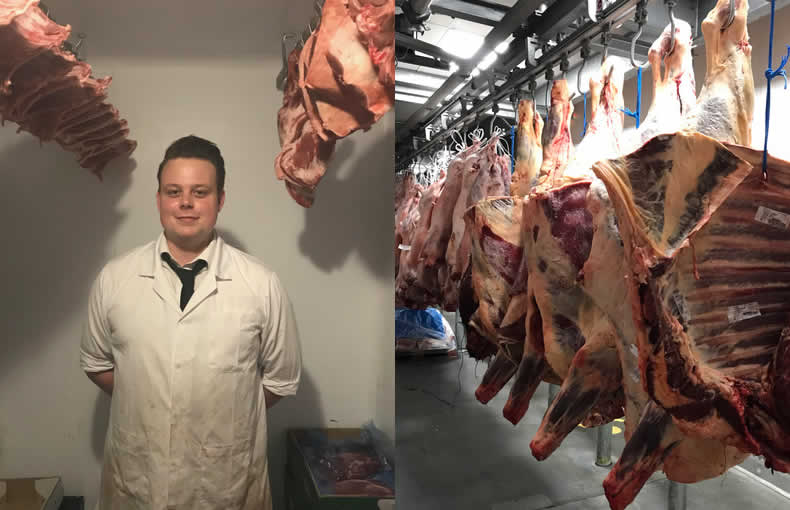 I joined the team at The Hampstead Butcher & Providore as a trainee butcher just under a year ago. I've been learning the ropes and working with the experienced butchers to develop my skills and have been looking forward to my first trip to Smithfield Meat Market to see where much of our meat comes from. It was an early start on Monday this week with the alarm waking me at 2am so I'd be up in time to meet up with Antonio, our long-time buyer and expert on all-things-market. Before we start out we enjoy a couple of strong black coffees………ready to go!
Smithfield Market is based in the North-West area of the City of London, very close to the recently renovated Kings Cross development and a 15-minute drive from our Hampstead shop. It's an extremely busy area throughout the day and night, with high-quality restaurants, bars and traditional pubs, as well as one of Europe's most iconic nightclubs situated just outside the market.
As we approach the market, there's a sea of white vans parked up, 2-deep, on all four sides of the market, waiting to get into the already buzzing market building. Thankfully, the vastly experienced Antonio knows exactly how to get around the market quickly without queuing. We collect our beef order, picked and ready for us, ready for Antonio to inspect to ensure it meets our high standards. After speaking to some of the market wholesalers about their side of the business it's clear to see that they are committed to delivering ethically-reared, high-quality meat to us at all times, as well as providing us with special offers or other products which me might be interested in. The enthusiasm and comradery of the salesmen and butchers, and the jokes and laughter and high energy of the market place all contribute to a quite unique and invigorating atmosphere.
After visiting the rest of our suppliers, collecting our English-reared Beef, Pork, Lamb and Chicken, I was invited to see the whole carcasses brought into the market. It's an education to watch the speed with which these wholesale butchers break down each carcass, with great skill and care, ensuring the quality of the meat is preserved in the process.
The last place to visit within the market is the main shopping area, to pick out the special orders that our own customers have placed. This area is open to the general public from early morning until 7am, offering a wide selection of meat, game, pates, sausages and cheeses. It's a lesser known valuable benefit of making the effort to get to market. After a final coffee and bacon bap in one of the local cafes which caters to the mass army of white coat workers, we head back to our three shops to put away our stock ready to sell over the next day.
Smithfield Meat Market should be on every Londoner's and visitor's to-do list. A genuine and marvellous marketplace, it is definitely well worth the early start!
Share