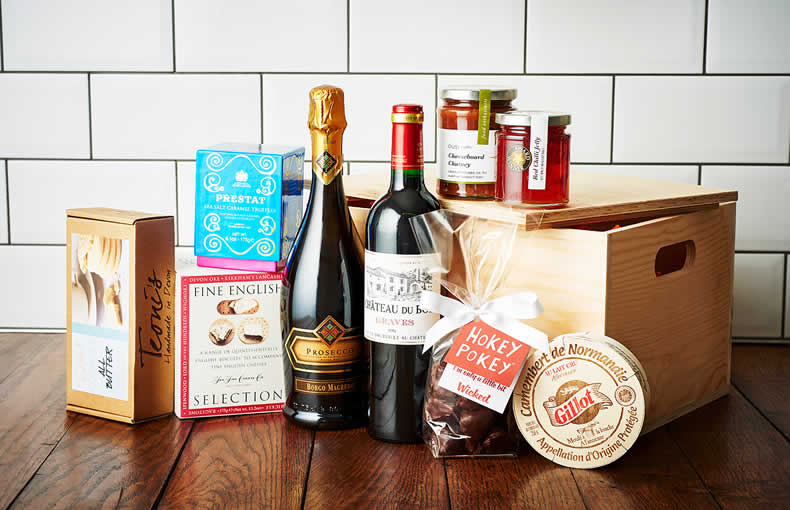 • Teonis English Shortbread Biscuits - luxurious , creamy, melt in your mouth shortbread made with real 'British' butter for a complete pure indulgent taste delight. Beautifully presented in a natural rustic recycled cardboard box. A wonderfully delicious gift.
• Sea Salt Caramel Truffles – 175g - This is a decidedly grown up caramel, the luscious sweetness of the full-cream caramel offset with the delightful sharp clarity of crystal sea-salt. The caramel centre is held in 70% chocolate truffle shell that is further dusted with the finest cocoa powder.
• Ouse Valley Red Chilli Jelly - 227g
• Fine English Selection Cheese Biscuits – 400g - All-butter Bath Ovals, Digestives and English Oatcakes, in one box.
• Camembert Gillot - 250g -The PDO Gillot Camembert is an exceptional cheese, made with respect for ancestral traditions of master cheese-makers. Made with a base of carefully selected raw milk, collected at the producers' in the area of the hedged farmland of the Orne, then moulded by hand with a ladle.
• Hokey Pokey Chocolate-Covered Honeycomb. A packet of outstanding chocolate-covered honeycomb. The combination of delicious melt in the mouth honeycomb, and the finest French chocolate, makes this a hard to resist luxury chocolate treat.
• Cheese Board Chutney - A balance of plums and English Bramley apples makes subtle, warmly spiced chutney especially created to complement an enormous range of cheeses.
• Borgo Magredo Prosecco Brut NV 750ml. A popular, easy to drink Prosecco styled from the region of Friuli in northeast Italy. A great aperitif.
• Chateau du Bos 750ml – Cabernet Sauvignon 65%, Merlot 35%. Harmonious and prominent aromas of dark fruit and liquorice plus a complex hint of tobacco. This wine has flavours of prunes and ripe fruit with a superb balance between supple sensations and silky tannins. Lovely with a Sunday Roast or cheese platter
All of our hampers are presented in stylish straw-filled pine boxes.
Share