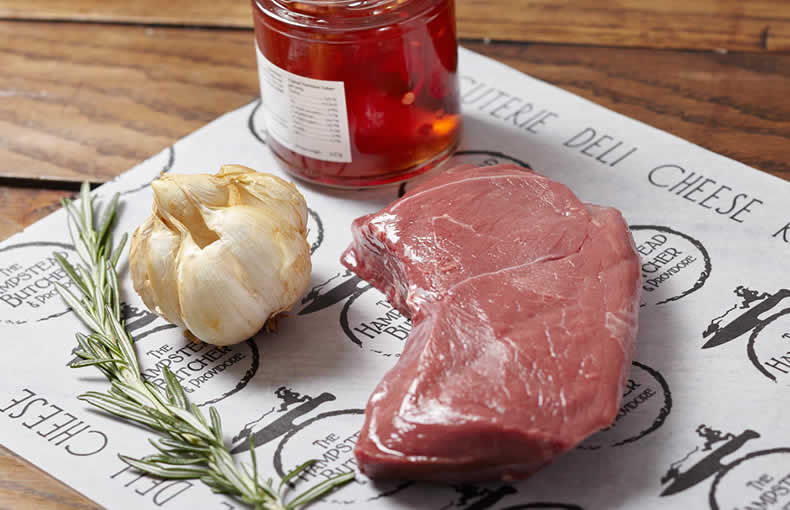 Yield 4 ptns
Ingredients
640g Venison loin (cut into 160g steaks)
4ptns Braised red cabbage (see recipe)
400g Commice pears (cut into wedges) – or good other
4ptns Sloe gin sauce (see recipe)
Method
Cook Red Cabbage (see recipe), set aside – can be done in advance.
Cook Sloe Gin sauce (see recipe), set aside – can be done in advance.
Season the pear wedges with coarsely milled black pepper and panfry until nicely golden brown, set aside – can be done in advance.
Cook venison to required temperature, rest. Reheat the red cabbage, heat sauce and pears. Present as required – serve.
NB – Nice with roast potatoes, greens, and/or a flat parsley and sliced shallot salad
Braised red cabbage
Yield 40 ptns
Ingredients
500g Red cabbage (finely shredded)
100g White onion (grated)
100ml Red wine
20g Fresh Horseradish (grated)
50ml Orange juice
200g Apple (grated)
50g Demerara sugar
45g Red currant jelly
1 pinch Cayenne pepper
1.5g Seasalt (or to taste)
Method
In a deep pot (with lid) over medium heat, sweat the red cabbage, onion, horseradish and apple, stirring well, until slightly soft (do not colour).
Add the red wine, orange juice, sugar, red current jelly and cayenne pepper, cook down gently (without a lid) until all liquid has evaporated, keep stirring well. It should develop a nice sheen on the cabbage.
Serve as required.
Sloe gin jus
Yield 4 Ptns
Ingredients
40g Shallot (diced)
50g Button mushrooms (diced)
50g Celery (diced)
50g Fennel (diced)
3 each Juniper berries (crushed)
20g Unsalted butter (diced & chilled)
30ml Red wine vinegar
1ea Garlic clove (crushed)
400ml Veal jus
50ml Sloe gin
40ml Vegetable oil for frying
Method
In a pan cook the diced vegetables until nicely browned.
Add the vinegar, stir well, and boil to reduce completely.
Stir in the juniper berries, crushed garlic, sloe gin and veal stock, bring to the boil and simmer gently, skimming very regularly until the desired consistency is achieved.
Pass through a fine sieve, squeezing as much liquid as possible out of the remaining vegetables, and then pass through muslin cloth (optional).
You can chill it at this stage for use next day.
To serve, heat required amount of sauce, when it reaches the boil whisk in the chilled diced butter, check seasoning – serve.
Share