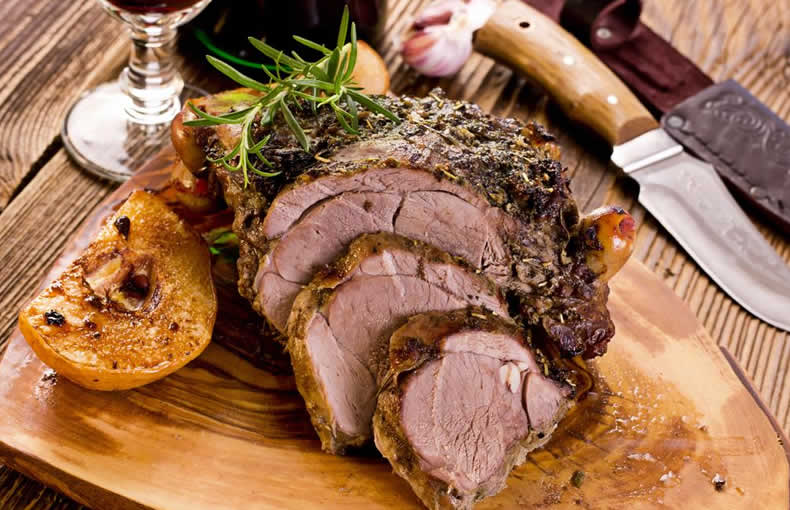 Have you feasted on the delights of New Season Lamb yet? Succulent and tender New Season Lamb has a delicate flavour in contrast to the deeper, richer colour and flavour of mature lamb. Both are actually great roasters so there is no right choice! Ask our butchers for advice on which to select and how to cook them to perfection.
We generally take our other lamb from 2 breeds:
Suffolk
Currently sourced from the Oxford area, the West Country & Wales. Suffolk sheep are a black-faced, open-faced breed of domestic sheep raised primarily for meat. The lamb produced when a half-bred ewe is crossed with a Suffolk ram is considered ideal for meat production, since they have unusually good conformation. The lamb has the easy-care benefits of a mountain ewe, as well as the excellent growth of the Suffolk ram. Suffolks were originally developed in England as the result of crossing Southdown rams on Norfolk Horned ewes. The product of this cross was an improvement over both parent breeds.
Texel
A breed of domestic sheep originally from the island of Texel, the largest of the Frisian Islands off the north coast of the Netherlands. The Texel is a heavily muscled sheep. It produces a lean meat carcass and will pass on this quality if crossbred. The exact origin of the breed is unknown although it is thought to be a cross of multiple English breeds. It was slowly bred into a meat breed of outstanding carcass quality. The Texel Ewe doesn't need heavy feeding to raise twin lambs, it does well in sparse vegetation of upland regions and excels in lowlands on better pastures. The most outstanding characteristic of the Texel is its remarkable muscle development and leanness. Texel-sired lambs show an advantage of one full leg score in breed comparisons and less total carcass fat.
Lamb offers some superb roasting joints. The Shoulder, Loin, Leg and Rack of Lamb are all family favourites. Lamb Shoulder is packed with flavour. It's bought either off the bone or as a half or whole shoulder feeding up to 6 people. Lamb Loin is also a great roasting joint that can be cooked on the bone for extra flavour or buy it boned and rolled so you can stuff it at home before tying and roasting. Leg of Lamb is one of the most popular cuts for roasting. It can be bought as a whole or half either on or off the bone. Rack of Lamb is a prime cut and a whole one will consist of eight ribs. It should be roasted until pink or medium and is great coated in a seasoned crust before roasting.
For a big family gathering it's hard to beat a gently Roasted Lamb Leg studded with garlic & rosemary and rubbed with a couple of finely chopped anchovy fillets. Yes, this really works! For help with roasting times, click here.
Lamb is a great versatile meat for adding new and interesting flavours to. Try some of the recipes on our website such as New Season Lamb with Spiced Aubergine & Chickpeas for a slow braised meat that is beautifully tender and gently spiced or Loin of Lamb with merguez sausage and roast tomato & herb sauce. For the ultimate in satisfying comfort food combine Lamb Rump with Fennel and a Blue Cheese Gratin.
We always have a wide selection of oven ready cuts and joints available for all our meats as well as ready prepared/marinated dishes perfect for midweek.
Whilst the meat is always the star of the show, selecting the ideal vegetables and accompaniments absolutely makes the meal! Marinated artichokes, feta cheese, black olives, roast red peppers and aubergines all work wonderfully with succulent lamb dishes and are available at our counter. As well as spring vegetables such as new potatoes and French beans. And of course, don't forget every classic Lamb Roast needs mint sauce!
No roast is complete without the perfect glass of wine to accompany it and Avie, our in-house sommelier recommends Chateau Haut Bourcier Premier Cotes Blaye at just £12.95 it's one of our best selling red wines and is ideally matched for Roast Lamb.
Share