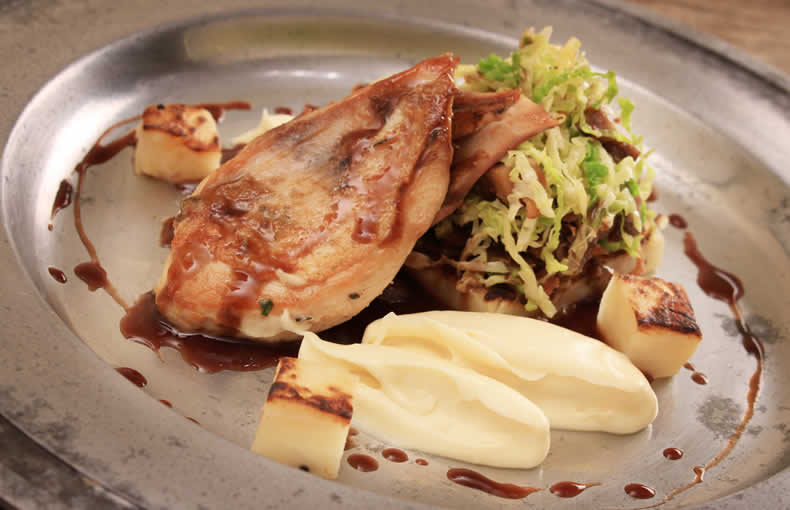 Serves 4
Ingredients
4 each 7oz pheasant breast
300g Puy lentils (soaked in cold water for 24hrs)
30g Carrot (fine dice)
30g Leek (fine dice)
30g Celeriac (fine dice)
30g Shallot (fine dice)
7.5g Garlic (fine dice)
15ml Vegetable oil or butter
70ml Red wine
5g Thyme (picked)
400ml Veal or Beef Stock (or a nice game stock if you have)
100g Cavelo Nero – Italian Black cabbage (stalk removed, cut & well blanched)
To taste Seasoning
200g Pancetta affumiciata – cut into lardons & pan fried until golden (small strips)
4ptns Watercress and crème fraiche sauce (see recipe)
Method
Make the Watercress sauce up to step 4. (See recipe) and set aside.
Drain off the lentils and rinse well. Sweat off the finely diced vegetables and thyme in the vegetable oil until just softening, add the lentils and mix well. Bring back to heat, stirring well.
Add the red wine and reduce by 2/3rd's.
Add the Meat stock and any Pancetta trimmings you may have, simmer gently until just cooked.
Remove from heat and set aside keeping warm (you can remove & discard the Pancetta trimmings at this point, especially if it's skin).
Gently colour the Pheasant breasts on a medium heat on the hob, then transfer to the oven (180oC for approx 10 mins), do not overcook as they will become dry. Allow meat to rest in a warm place whilst you finish off the lentils and heat your sauce.
Heat lentils with the blanched Cavelo Nero (make sure you've squeezed any excess water out first) and bacon lardons. Check seasoning when hot. At the same time put your sauce on to gently heat through, when hot liquidize the watercress into it, check seasoning.
Spoon lentil mixture into the middle of your serving plates, slice the Pheasant breast as desired and place on top.
Drizzle around with the watercress and crème fraiche sauce and serve
Share