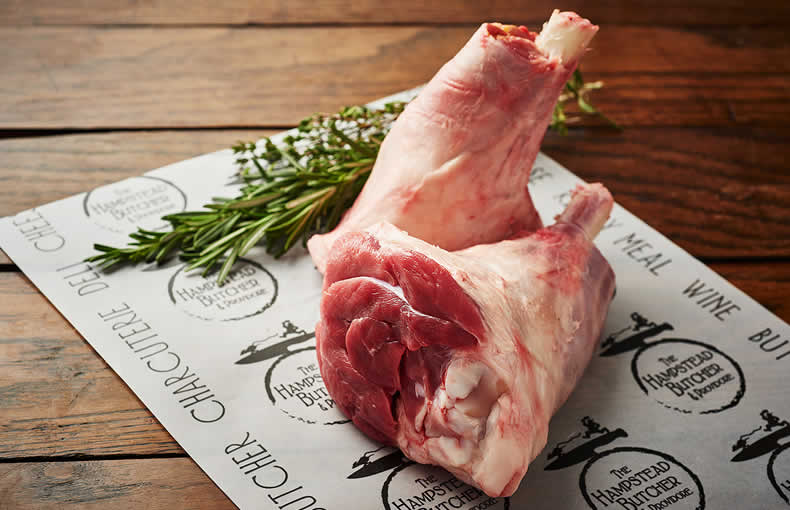 Yield 4 ptns
Ingredients
4ea Lamb shanks
2g 5 spice powder
2g Ground black pepper
2ea Cloves of garlic (crushed)
30ml Olivetti oil
300g Carrot (cut into 1 ½ inch pieces)
300g Daikon (cut into 1 ½ inch pieces)
40ml Rice wine (sake ozeki)
15ml Rice vinegar
600ml White chicken stock (see recipe)
200ml Soy sauce
40g Sugar
Aromatics
12g Root ginger (smashed)
2ea Spring onions (smashed)
2ea Star anise
6g Fennel seed
6g Coriander seed
½ ea Oranges (just the peel that has been dried)
12g Corn starch
Garnish
10g Root ginger (julienne- cut into thin matchstick strips)
10g Dutch Red chillies (cut into thin rings)
8g Coriander leaves (picked and washed)
30g Spring onion (sliced on the bias)
Method
Rub the shank with the 5 spice, pepper and garlic and marinate for 24 hrs.
In a thick bottomed pan heat a little vegetable oil and gently brown the shanks, remove.
Add the carrot and daikon to the pan and gently brown.
Add the wine and vinegar and reduce by half.
Return the shanks, add the stock, soy, sugar and aromatics, bring to the boil and gently simmer until cooked (with a lid on), for approx 2 hours. Alternatively, you can cook in the oven at 160oC for 1 ½ - 2 hours. It's ready when the meat is tender and wants to fall from the bone. Allow to cool slightly.
Remove the meat carefully to a suitable pot/serving dish. Strain the cooking liquor, skim off any fat, in a clean pan bring back to the boil and thicken with the corn starch, pour over the Lamb shanks, garnish and serve.
NB – Great with Egg Fried Rice!
Share