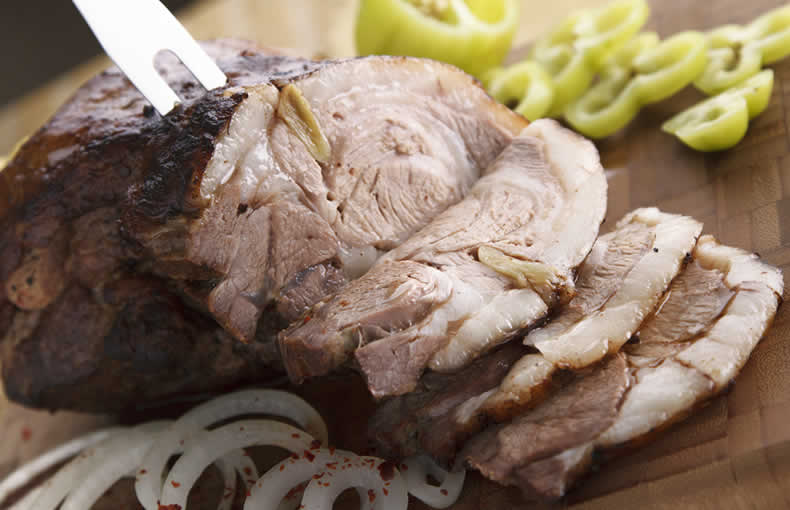 Serves 4
Ingredients
1.8-2kg Whole (on the bone) short lamb saddle (bone loins out & trim off fat, keep bones for the sauce)
30g Egg white (broken with a fork, not heavily whisked)
4 x Portions Persillage (see recipe)
200g Merguez sausage (Pan fried)
4 x Portions Garlic lamb jus (see recipe below)
Vegetable Garnish
4 each Plum tomatoes (halved & roasted)
4 each Small courgettes (halved & Pan fried)
200g Baby onions (gently sauté until soft with a little colour)
150g Roasted garlic cloves (in their skin) – reserve 1/3 for sauce
5 x Portions of leaf Spinach
The plum tomatoes, courgettes, baby onions & roasted garlic can all be prepared well in advance if required, you can then flash through a hot oven just before serving.
Method
Cut the lamb saddle loin into portion size (approx 180-200g), roll in the egg white, and then in the persillage, store on baking paper in the fridge, not touching each other! Sauté gently with a knob of butter then place in the oven (170oC) cook to your liking when required (rest for 6-10 minutes before cutting).
Arrange the hot spinach on each main course plate (in the middle), put two halves of courgette on top, and two tomato halves.
Cut the rested hot lamb loin across, into 3 equal pieces, arrange around the outside of the garnish, putting the Merguez, baby onions and roasted garlic in between.
Spoon the sauce around and serve.
Persillage
Ingredients
25g Chopped parsley
50g White breadcrumbs (dried)
5g Finely chopped garlic
Seasoning
10g Clarified butter
Method
Mix all ingredients together in a food blender on pulse until you achieve a loose crumb consistency.
Check seasoning and reserve ready for use. You can refrigerate.
Garlic Lamb Jus
Ingredients
200g Lamb bones (chopped small & roasted until brown)
100g Onions (roughly chopped)
100g Carrots (roughly chopped)
75g Leeks
1 stick Celery
10g Rosemary
100g Tomatoes
100ml Tomato juice
500ml Veal stock
20g Garlic
100ml White wine
30g Roasted garlic (puree) – Squeezed from skins & mashed
Method
When lamb bones are roasted, drain in a colander to remove excess fat / grease.
In a thick bottomed pan, sauté the carrots and onions until a good brown colour, stir well – drain in a colander to remove excess fat / grease.
Return the carrots, onions and lamb bones to the pan, bring back to heat, deglaze with white wine, and reduce by half.
Add veal stock and tomato juice, remaining vegetables and herbs, bring back to the boil, simmer slowly, skimming fat off the top regularly for 1 ¼ - 1 ½ hours.
Pass through a fine strainer – return to the heat, reduce to consistency required – check seasoning.
Whisk in roasted garlic puree, Serve as required.
Share