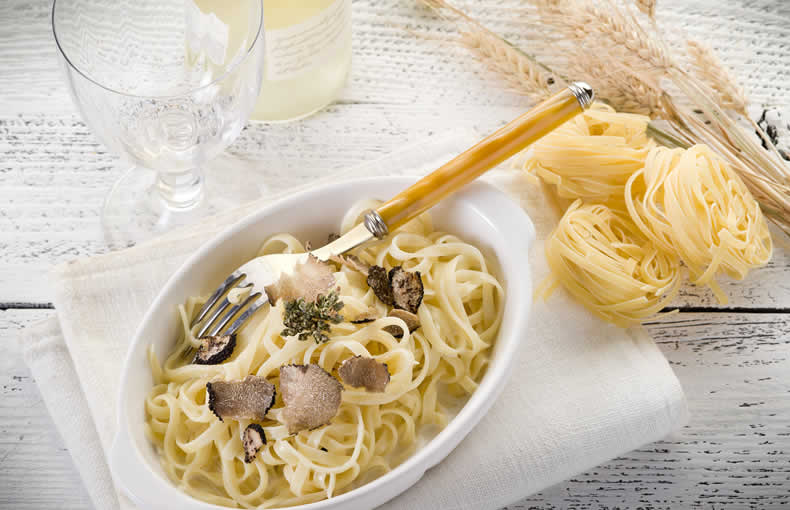 Serves 2
Ingredients
2 x 8oz (200g) Free-Range Rump Steaks
1 x 250g La Tua Fresh Tagliatelle Pasta
12g Unsalted butter
4g Flat Parsley – Chopped
50g Wild Rocket Leaves
15ml Extra Virgin Olive oil
To taste Sea Salt
To taste Milled Black Pepper
Creamy Mushroom Pasta Sauce
Method
Place a pan of lightly salted water on to boil for the pasta.
Meanwhile sauté the steaks in a little olive oil in a very hot frying pan until the steaks are cooked to your liking. Add a knob of butter 1 minute before the end of cooking, remove to a side plate to rest the meat with the cooking juices.
Cook the pasta in the boiling water with a pinch of salt until "al dente", drain & heat the mushroom cream sauce (see below). Stir pasta into the sauce & add the chopped parsley.
Place pasta onto 4 hot serving plates. Season the steak with salt & pepper (slice steak if required) place next to the pasta & serve with the rocket leaves dressed in olive oil and a twist of milled pepper.
We recommend Santa Julia Pinot Noir with this dish – "A fruity and full bodied red with a deep colour, youthful fruit character and a touch of oak.".
Creamy Mushroom Pasta Sauce
Yield 4 Ptns
Ingredients
125g Button mushrooms – cut & sauté & drain
125g Mixed wild mushrooms – cut & sauté & drain
125g Flat field mushrooms – peeled & cooked in the oven until wilted, then slice
6g Dried cep (porcini) mushrooms
200g Onion – fine dice
4g Garlic
600ml UHT whipping cream
2 tsp Lemon juice
2g Rosemary sprig
Sugar to taste
Seasoning (fine sea salt and milled black pepper) to taste
Method
Sweat onion & garlic with a pinch of salt in a little oil until soft without colour. Add dried Cep (porcini) mushrooms, stir well.
Add UHT cream, slowly and gently bring to the boil, simmer for 2-3 minutes, add sauté mushrooms & cook gently for 10-15 mins. Remove from heat.
Season to taste, add rosemary, lemon juice, sugar (if needed), stir well, cover with cling film and infuse all for 10-15 minutes. Remove the Rosemary sprig.
To serve, bring back to heat and mix with freshly cooked pasta.
TIP: Sprinkle with roughly chopped flat leaf parsley and freshly grated parmesan cheese. You can also embellish this dish further with a good quality truffle oil and/or freshly grated truffle!
Share