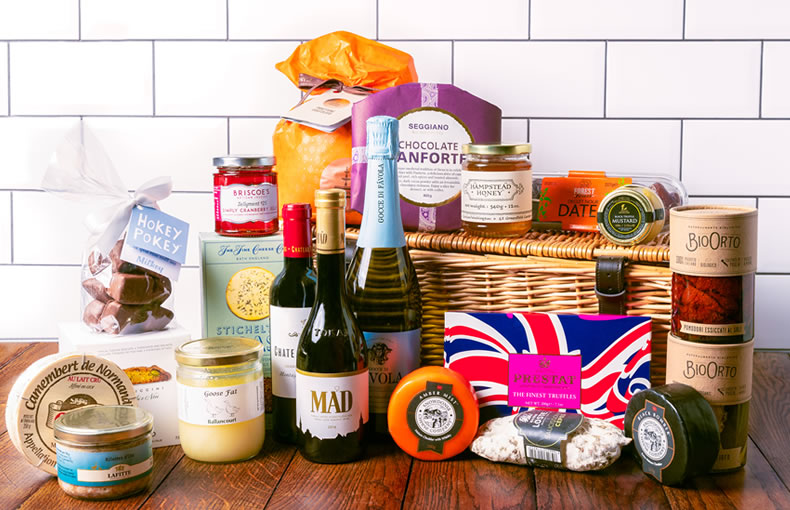 Gocce di Favola, Prosecco Extra Dry, Veneto NV - 75cl - A fresh, fragrant, off-dry and fruity Prosecco with an attractively crisp finish.
Château Treytins, Montagne St-Emilion, Bordeaux - 37.5cl - Merlot, Cabernet Sauvignon and Cabernet Franc. A versatile wine perfect with red meat, poultry or cheese.
Mád Tokaji Late Harvest, Tokaji, Hungary - 37.5cl - Vivid and lively late harvest wine, the natural sugar concentration is balanced by refreshing acidity. Perfect with cheese, pudding or just with a coffee.
Snowdonia Amber Mist – 200g - A mature Cheddar warmed through with a generous splash of Whisky.
Snowdonia Black Bomber – 200g - Creamy & smooth extra mature Cheddar loved for its depth of flavour.
Bio Orto Organic Sundried Tomatoes in Extra Virgin Olive Oil – 370g - Ideal in antipasti and excellent for the preparation of gourmet sandwiches and pasta sauce.
Bio Orto Artichoke Hearts – 605g - Freshly harvest organic artichoke hearts, plus bay leaves and pepper. Crunchy and deeply satisfying, these can be nibbled alongside a Martini as an aperitif, combined into an offering of tapas or stirred through salads and pasta.
Rillettes d'Oie - 180g - For a tasty and easy to prepare starter for two served on some lightly toasted bread or on canapes.
Saucisson Cèpes - 250g – A classic combination of pork and dried porcini mushrooms.
Hampstead Honey - 240g - Honey…………….made in Hampstead.
Stichelton Toast - 70g - Unpasteurised Stichelton blue cheese combined with buttermilk, flour, sesame seeds, and a dash of lemon juice, and then carefully seasoned.
Dates Forest Feast - 227g - The perfect accompaniment with fine wine and cheese.
Briscoe's Simply Cranberry Jelly - 130g – For breakfast, soft cheese and white meats.
Goose Fat - 300g - Gives an added depth of flavour and richness fit for a King.
Black Truffle Mustard - 100g - Made with authentic Dijon mustard imported from France and expertly blended with the highest quality European Black Truffles.
Panettone Cioccolato Fiasconaro - 750g - Traditional chocolate panettone cake with dark chocolate drops and sumptuous light icing.
Chocolate Panforte - 100g - A flat sweet cake made from candied citrus fruit peels, rich spices and toasted almonds.
Hokey Pokey Honeycomb - 150g - The combination of delicious melt in the mouth honeycomb, and the finest French chocolate, makes this a hard to resist luxury chocolate treat
Cantuccini with candied orange peel - 200g – Light and crunchy, delicious dipped in Vin Santo or served with coffee.
Prestat Union Jack - 80g - Six of the best! London Gin and Lemon, Earl Grey in milk chocolate, Gianduja in milk chocolate, St. Clement's, Sea Salt Caramel in an enrobed dark chocolate truffle shell and Equatorial dark chocolate Coconut.
Presented in stylish straw-filled wicker hamper and can be collected form any of our shops or delivered to you anywhere in the mainland UK.
Share