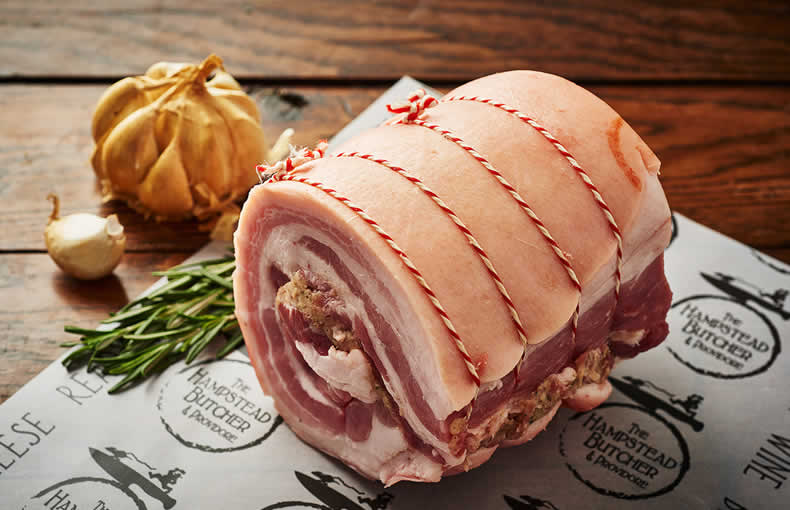 Haggis is a traditional Scottish dish, considered the national dish of Scotland as a result of Robert Burns' poem Ode to a Haggis of 1787.
Haggis is a savoury pudding containing sheep's pluck (heart, liver and lungs) minced with onion, oatmeal, suet, spices, and salt, mixed with stock, and traditionally encased in the animal's stomach then simmered for about three hours (although modern commercial haggis is prepared in a sausage casing rather than an actual stomach). Haggis has an excellent nutty texture and delicious savoury flavour. It is traditionally served with "neeps and tatties" (Scots for turnip and potato), boiled and mashed separately and a dram (a glass of Scotch whisky), especially as the main course of a Burns supper.
Haggis requires heating until piping hot and is to be consumed within 24 hours of opening. To oven cook from chilled remove printed packaging, wrap the haggis in foil, place in an oven-proof dish with about 2cm of water and heat at 180°C (gas mark 4) for 75 minutes (for the 450g Haggis). Remove casing and clips before serving.
We love this recipe for Haggis Stuffed Pork Loin:
Ingredients
Free-Range Pork Loin (on the bone) stuffed with Macsween Haggis
We can do prepare this for you if you ask one of our butchers when you order
Allow approximately 300g per person
Mashed potato – mashed with a little, warm double cream & butter after cooking
Mashed Neeps - mash turnip, swede & carrot (for colour) together, in whatever ratio you prefer
Onion Gravy - Kent's Kitchen gravy is perfect, add a splash of whisky at the end to brighten things up
Method
Cook the Pork & Haggis as a roasting joint and enjoy the crisp crackling, rest for 10-15mins before carving so you don't lose that all important juice from the meat
Finish the mashed Neeps with a knob of unsalted butter & a little chopped parsley – season to taste
Ensure your mashed potato is velvety smooth - season to taste
Spoon over with the rich onion gravy
Share